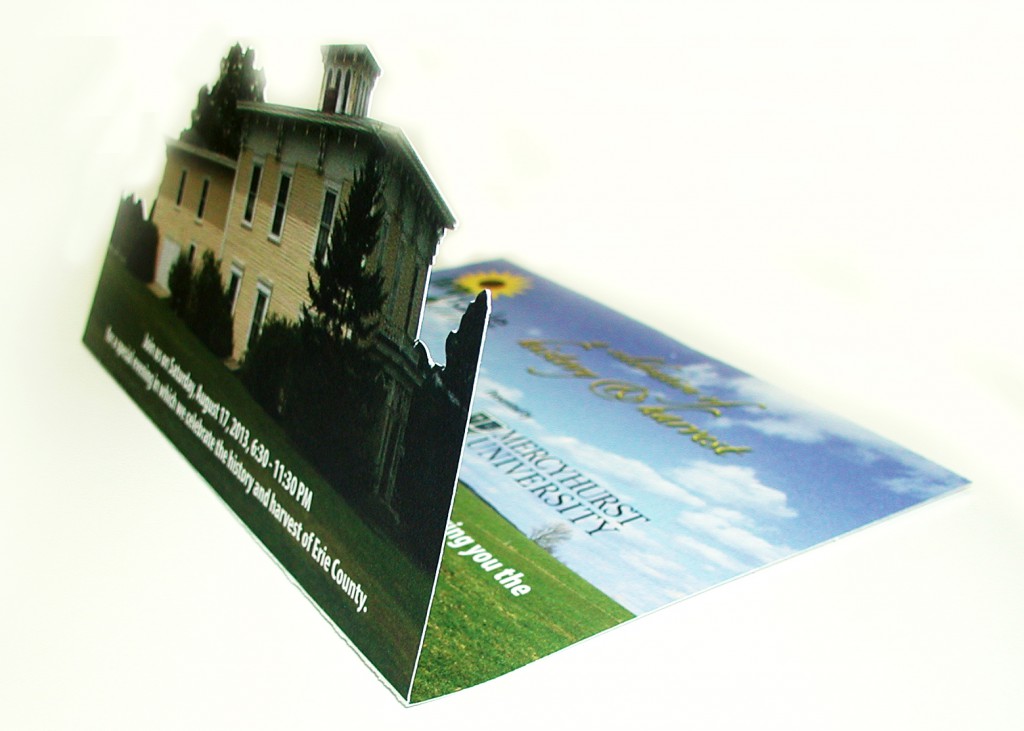 Die cutting allows your product to take on a new shape using a steel cutting die. Die cutting can be done in two ways; the first involves punching out a decorative shape or pattern within a larger piece. Punching out a custom shape can create an interesting geometric window or see-through text elements. A second way to use die cutting is to cut out excess paper to create the main shape of your product. Having your entire printed product take on a custom shape can add an interesting dimension to your printed piece.
Die cutting is a relatively inexpensive way to "push the envelope" when creating unique effects with your projects. Die cuts add very different visuals to your project and grab the attention of everyone that sees your product. These strong visual techniques will add value and emphasis to your projects.
To Get The Most Out of Die Cuts:
Avoid lacy patterns that can tear easily, the goal is to achieve a clean crisp edge. We can accomplish this through laser die cutting but the
process becomes pricey with intricate shapes. 

Keep the die cut at least 1/4″ away from the edge of the paper if the die is intended to be a windowed die cut. Heavier paper stocks can take die cuts to the edge.

Use 22# text or cover paper and higher to achieve clean, crisp die cuts with accurate puncturing.

With stationary, avoid die cuts that distract or interfere with the text elements. Paper should be easy to place into a desktop printer without printing errors.

Greeting cards, stationery, and tabbed books usually incorporate die cuts into their designs to push the visual appeal.