Employee Listing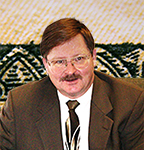 Michael P. Martin – Owner/ Sales
As Mike would put it, "the deadlines are tough, but the printing biz is fun and challenging. It's fun figuring out how to complete the challenging projects." An avid golfer and kayaker, he prefers enjoying the outdoors in the fall due to the crisp days and array of colors. The colors remind him of all the fun projects he gets to work on. A pet lover, Mike spends his time with his cat, Jasperborg.
Jim Colvin – Prepress Manager
Jim says the challenging opportunities and ever changing landscape of printing allows him to be creative on the job. As our resident Yoga guru and fresh foods expert, Jim likes to relax with his Golden Retriever, Jake, while listening to Adele on the weekends.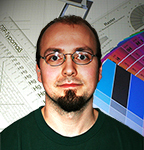 Shannon Lutz – Prepress Manager
As one of the designers from our pre-press team, Shannon is always enthusiastic to lend his creative juices to Printing Concepts and our customers. Outside of the office, Shannon plays ice hockey with his friends and community through the Erie Senior League.
Chuck Orton – Estimation
Paint it Blue would be his response to an art question as he listens to the Rolling Stones. As our project estimator, Chuck likes "the challenge of taking a blank sheet of paper and creating a finished product, exceeding customers' expectations."
LuAnn Shidemantle – Customer Service
As part of the customer service team, LuAnn enjoys the ongoing diversity and prospects she works with on a daily basis, including the challenges and creativity put forth to successfully support customers from start to finish.
A pasta connoisseur, LuAnn enjoys Italian cuisine after spending time outside gardening and enjoying the summer evenings.
Lee Ann Bender – General Manager
General Manager Lee Ann says "the printing business is always changing making it a crazy fun experience." After hours you can find her enjoying some Christian Rock music. Her favorite color is green which would explain her calm serenity during work, but we know behind the calmness lies the energy to keep Printing Concepts running.
Bill Flanagan – Sales
Doug Dunham – Production Manager
Melissa Rogowski – Mailing and List Management
Katy Fuller – Accounting/Bookkeeper