Foil stamping creates a lively and energetic feel to your product. It is a process that uses heat, pressure, metal cut patterns to cut the foil, and rolls of thin foil film to create a completely unique look and feel to a printed piece. The type of foil is vast, and foils come in a large assortment of colors, finishes, and optical effects. Since foil stamping is an opaque medium, it does not change color based on the color paper used. A light foil pattern can look amazing and well-placed on dark colors or dark paper.
We have a large variety of foils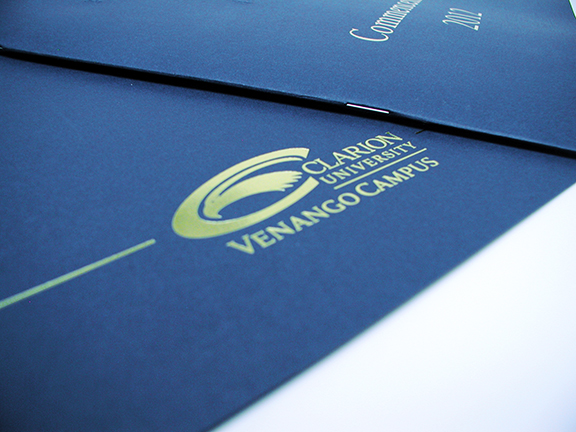 Simple Solid Colors: Green, Blue, Red, Yellow, and many more.
Metallic Colors: Silver, Gold, Bronze, Reflective Metals
Clear: Gloss or Matte finished, the color of the paper will show behind the foil if clear foil is used. 
Holographic: Patterned foils with effects:Glitter, Speckle, and much more.
Pearlescent: Glossy and translucent
To get the most out of foil stamping:
Don't design elements close together. Foils tend to spread when there are narrow open spaces.

Avoid tight kerning and fine type (9 pt. and below), the letters may bleed together.

Wrinkles and distortions may be caused with stamping too close to the edge of a sheet without bleeding off the page.

Foils don't work on everything. as wax inks, silicone, special types of paper, and varnishes cause foils to flake or fall off.

Simple designs work the best, especially with combination dies. Combination dies include using two or more foils that touch. Close angles and areas may cause problems.

Design that include varnishes should be planned carefully. Although the process is well suited for coated cover papers, foil stamping does not work well on varnished surfaces.
Our team of printing professionals are happy to answer any questions you have about the foil stamping process, and any other specialty printing processes. Since we have extensive experience printing with foils, we can offer creative alternatives to foil or apply unique effects.